Letterpress Wedding Invitation Printing - Cotton Paper
Letterpress Invitation Stationery
Eco Letterpress Invitation Cards - Environmental Printing Australia - Sydney, Melbourne, Canberra, Brisbane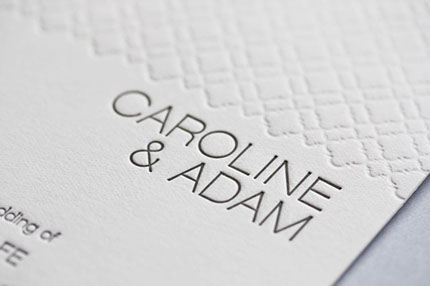 Letterpress Printing - 100% natural Cotton Paper - Eco Friendly Letterpress Business Cards. Letterpress Card Printing Australia.
LETTERPRESS WEDDING INVITATION CARDS - 600 GSM COTTON PAPER
Letterpress Wedding Invitation Cards are printed on beautifully textured 600gsm Cotton Paper
Wedding Invitations / Save The Date / Thank You Cards
Standard Sizes: A6 (103x148mm) or A5 (210x148mm)
Stock: 600gsm Cotton Paper - 100% natural.
Colours: 1 Spot Colour 1 side
Weight: 600gsm uncoated stock
Minimum Print Quantity: 50
Qty: 50 - $POA includes GST & Delivery
Qty: 75 - $POA includes GST & Delivery
Qty: 100 - $POA includes GST & Delivery
Based on press ready art and 1 kind of artwork per Qty. Artwork Services Available

Note: Cotton card is a soft paper stock designed to be pressed. Some cupping and subtle letterpress ghosting may appear on the reverse side of the card. This is a characteristic of cotton card and not considered a defect. In the interest of supply and quality, stocks may vary slightly from time to time.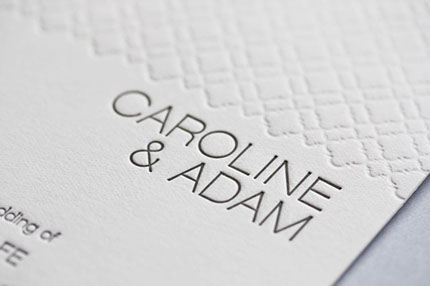 Letterpress Wedding Invitations Australia
Make your special day perfect with the natural beauty of Letterpress Wedding Invitations on natural cotton card.
You can provide us with print ready artwork or let us design your card for you - Prices on application.
Letterpress Invitations - Request a Quote
Please note: We reserve the right to use photographic printed examples of Letter Press in our advertising / web pages in the interest of promoting this product.
Category: Letterpress Wedding Invitation Cards Melbourne, Sydney, Canberra, Brisbane, Perth. Letter Press Business Card Printers Australia, Custom Letterpress Printing, Custom Letterpress Printing Australia, Letterpress Printing, Letterpress Business Card Printers, 100% recycled printing, Cotton Paper Letterpress Printing, 100% Letterpress Business Cards Printing, Melbourne Printing, Print, Business Card Printers, Sydney Printing.
All pricing is AUD and includes GST, downloading, plates, stock, printing and delivery to Mainland State Capitals ONLY. Other specifications available, please contact Creative Connect for more information. All prices are subject to change without notice. Artwork must be digital press ready, supplied as press .pdf file. Prices effective May 2009.

environmental printing that won't cost the earth